Snakes for Your Waist
---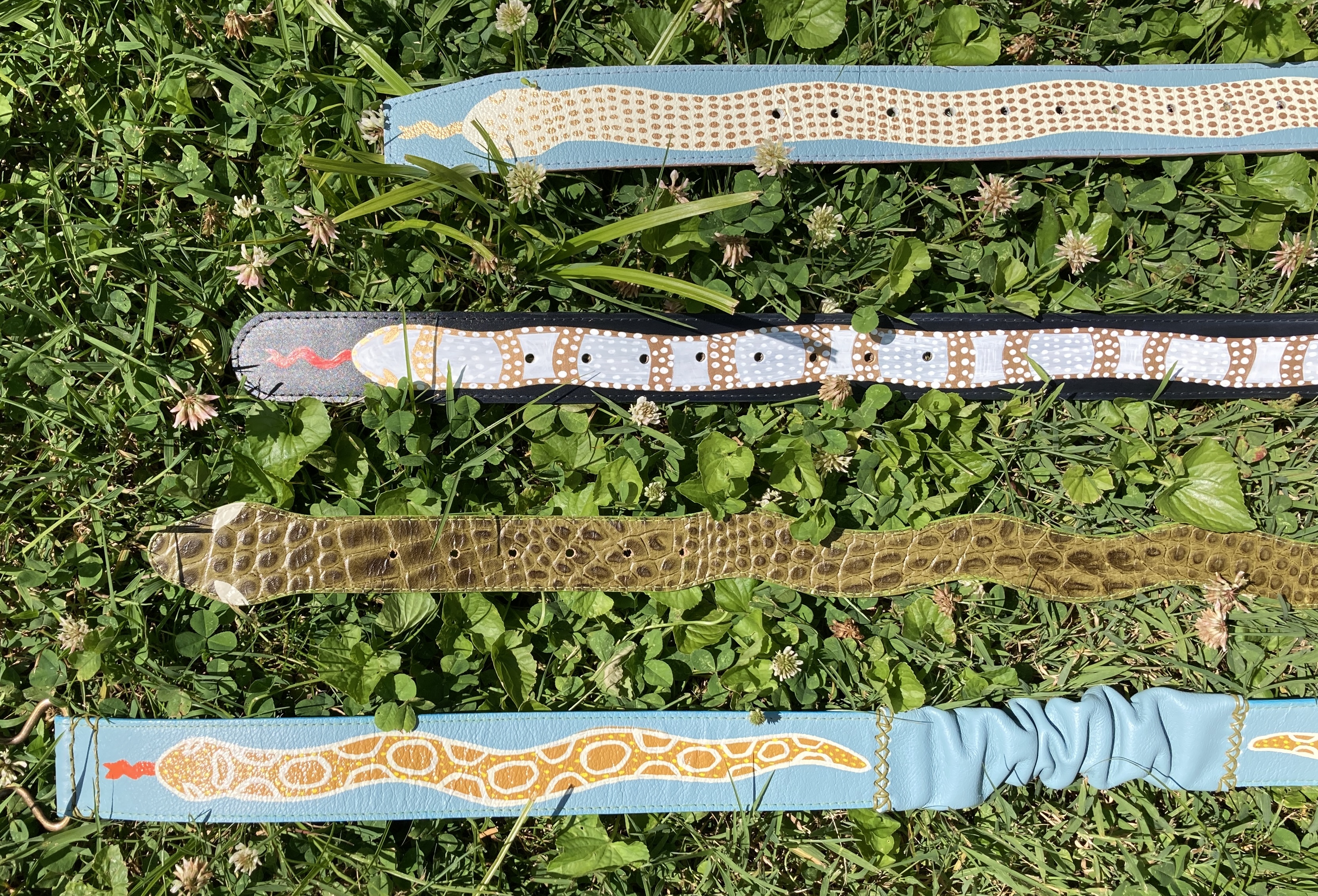 If you are like me, you probably do not like snakes. They are unpredictable and downright creepy in my opinion. On the other hand, though, I find them fascinating, especially from a design aspect. If you feel similarly, why not stand up to the slithery creatures and empower yourself by wearing painted snakes around your waist?!

Today's blog entry is all about a recent drop of accessories by myself and artist Beth Meadows. This exceptional collection features five one-of-a-kind belts handcrafted by myself and then hand-painted by my incredibly talented friend and fellow artist, Beth. This collaboration marks our second together, and I am hopeful it will not be our last!

Working with Beth is a real treat. Before we ever collaborated, I followed her on Instagram and became captivated by her folky, colorful, meticulous-yet-bold work because it always gives off a sort of vintage style that I love to work in. So, when she first reached out to me last year about a handbag collaboration, I was in. Whether it's a landscape, a poolscape, a cozy bedroom, her whimsical wooden cutouts, or her pieces that feature recycled materials, I am always a fan. To learn more about Beth and to browse/buy her inspiring work, please check out her website, bethmeadows.com.

Beth and I first spoke of our latest collaboration this past February when spring felt like forever away. This time of the year was already stacking up to be busy from going full-time, the preparation for three spring shows, and an upcoming two-week trip to Connecticut. In my defense, my trip to Connecticut was to see my goddaughter for her 5th birthday, and I was not about to miss it. Two weeks away was a bit long, but like any trip, it went by quickly and allowed me time to clear my head after transitioning into Fado Made full-time.

Once I returned to Knoxville in mid-March, my cleared head filled up again as I was on a tight deadline to take the belt sketches Beth and I agreed on from paper to fruition. This began with the leathers in a rich dark turquoise, pale pink, dusty blue, avocado green, and lipstick red, plus; white, black, and moss green leathers left over from previous projects. What makes these belts even more distinctive is the use of vintage buckles found online from vintage sellers or from old beat-up belts passed along from my dad. Every belt came out completely original, and I am so pleased with the response they have received so far, so much so that I plan to always have belts in stock and welcome any custom-ordered belt!

Thankfully, I finished the belts on time, and once Beth had them, I anxiously waited to see what she would add. After a couple of weeks apart, the anticipation I felt to look at them when I got them back was intense. With each belt I took out, I let out an audible gasp and was in awe at how much Beth's work elevated every belt. The belts that received Beth's magical touch are a lipstick-red belt with a shiny brass buckle, a black belt with an antique solid brass buckle, a pale blue cinch belt with leather-covered elastic and a brushed brass interlocking buckle, another pale blue belt with another antique brass buckle, and finally, a green crocodile-embossed belt with a thin, shiny solid brass buckle. All in all, I did my best to create a variety of belts in various styles and an array of sizes for this collection to be as inclusive as possible. Not one belt is like the other, even down to the snakes Beth painted on them. You will find specific measurements in the following descriptions, as well as in each belt's listing.

We are so excited to share these belts with you! So, without further ado, here's more information about each belt…

The first belt I would like to introduce is a classic everyday black belt with an extra level of flare; it is an accessory that is anything but ordinary. The smooth black top-grain cowhide is backed/lined with vegetable-tanned leather to increase durability and quality and is embellished with a vintage full brass belt buckle. This 1.5″ wide belt is 45″ long and can be worn at 34″ at its first hole and 40″ at its last. When you look closer, you will find that the painted snake has a matte finish and is highlighted by a metallic gold outline and stripes. This belt's snake also has a cheeky red tongue sneaking out of its mouth. This belt is the perfect accessory to be worn solely for function but also to add extra character to any outfit. It is both subtle and a statement piece!

The second belt might be my favorite. It is a belt that will bring your outfit together "in a cinch." This buttery-soft leather belt comes in a delicate sky-blue hue and wears two vibrant golden, white, and yellow-speckled snakes on each side of the front interlocking brass clasp. In the back of this unique 1.625″ wide belt, you will find leather-covered elastic to allow the belt to stretch from 38.5″to 41.5″, ensuring comfort throughout your time wearing it. Assembled with moss green leather cord and accented by lime green machine stitching to securely adhere the blue leather to its vegetable-tanned backing/lining, this belt also features bright blue hand-painted edges to give off a polished and finished look to the accessory overall.

Third comes another pale blue belt with subtle glamour ready to be worn around your waist! This belt is backed/lined with vegetable-tanned leather and features a beautiful white and metallic gold speckled snake to make this accessory a one-in-a-million item. Accented with light pink hand-painted edges, this particular belt features many holes to be worn at a variety of different lengths, with its first hole 11″ from the end of the leather where it meets the vintage brass buckle, to 32″ away from it. Its light colors will pair well with any summer sundress.

Next, we have a moss-green belt that is funky, playful, and a little edgy. This belt is shaped like a snake on the move to look like it is slithering around your hips. In a moss-green crocodile-embossed cowhide, this belt is accented with whimsical white eyes and a bright red tongue to bring this snake to life. To secure this unique belt around your hips, slide the snake's head through the shiny gold square vintage buckle and moveable belt loop to wear it anywhere from its first hole at 34″ to its last at 40″. I guarantee it will make you smile every time you put it on!

Finally, a lipstick-red belt with a bold black and white snake that has already sold! The buckle on this belt is one that I had kept for almost ten years, since when I was at F.I.T. I patiently waited until I found the right project for this piece of hardware, and I am glad that I held onto it for so long so it could be a part of this belt. Adorned with a white body snake and jazzed up with lively black specks, this belt is one you can dress up or down. The prong of this belt buckle was different from any of the others, as it is thin and rectangular, meaning the holes on the belt had to be the same. Like all the others, this belt is backed/lined with vegetable-tanned cowhide and machine stitched with matching red thread for added durability. If you like this belt, please reach out and we can make another!

If you ever want a custom hand-painted belt, something else painted on an accessory I have made, or even if you find a leather good elsewhere and you want Beth's signature style added to it, do not hesitate to ask! You can always fill out a custom order form from my website, email me at jamie@fadomadeco.com, or email Beth directly at beth@bethmeadows.com.
Thanks for reading! ✽
– Jamie