5 Staple Summer Accessories from Fado Made
---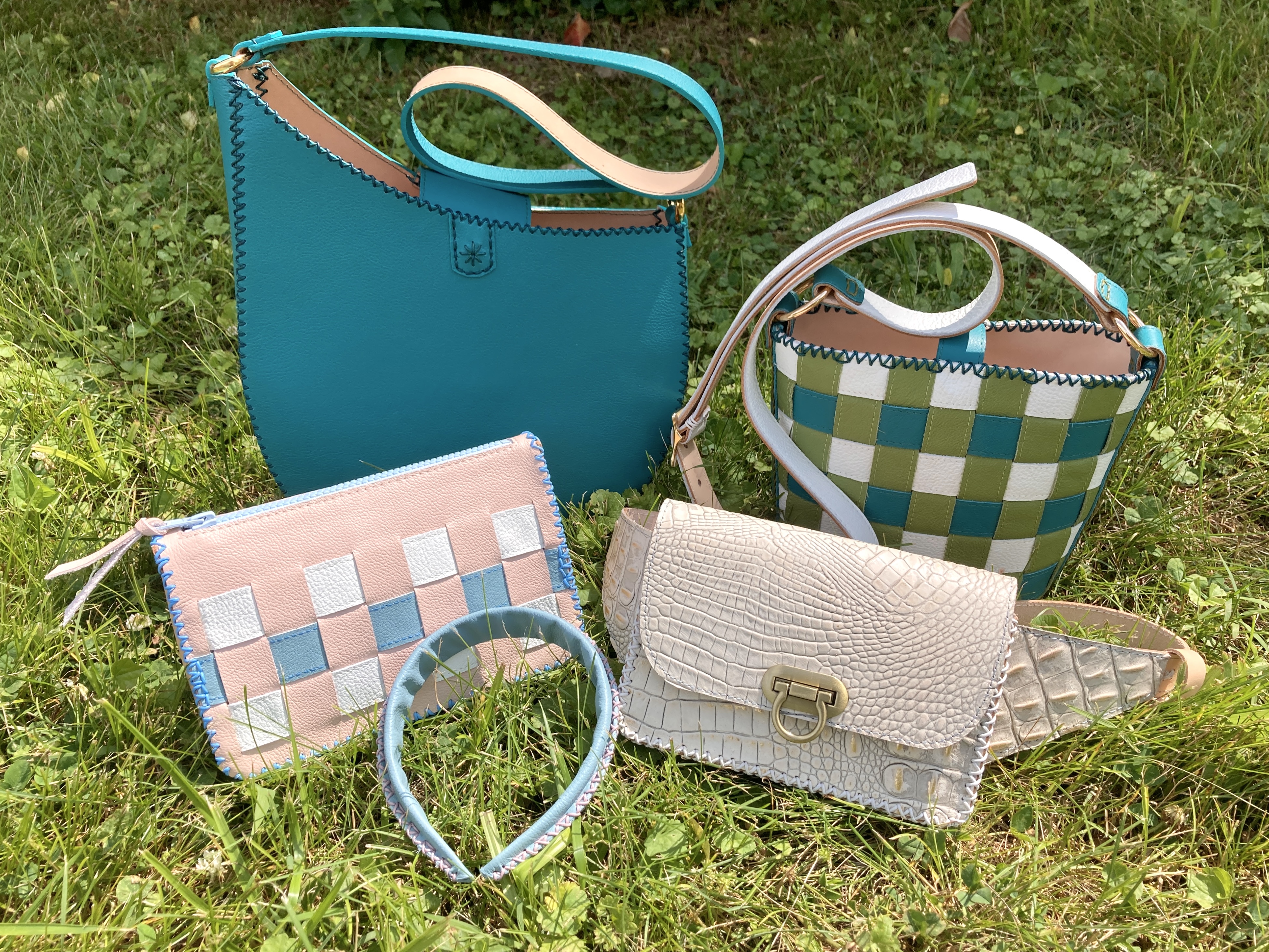 Ah, summer—we eagerly wait for it all year round. It's a time for embracing light layers and vibrant colors, wearing effortless sun dresses and sandals, and enduring the inevitable and unavoidable element of sweat. Despite the sweltering heat and sometimes suffocating humidity, my love of summer has never wavered. I love the outdoor activities that summer brings, in addition to the fun clothing, but above all, the accessories! As a passionate leather goods designer, I have an inherent love for accessorizing, and I'm thrilled to introduce you to five remarkable pieces from my woman-owned small business, Fado Made. These handpicked accessories are not only poised to become your most trusted companions but also effortlessly enhance the style of your summer wardrobe. Get ready to discover the perfect blend of dependability and undeniable fashion allure!

On those mentioned hot and humid days, I am more than likely wearing one of my Fado Made Leather-Wrapped Headbands to help keep my hair out of my face. They are the perfect accessory to keep my hair back while providing an extra pop of color and elegance. As a millennial, I have worn headbands as a child in the 90s, in High School during the 2000s while obsessing over Blair Waldorf from Gossip Girl, and again now, as an adult. Fado Made Leather-Wrapped Headbands offer functional comfort in addition to a secure fit. Though I loved wearing my mom's headbands from the 80s, I always needed to take them off after a few hours because they would give me a headache from the pinch they provided behind my ears. With a Fado Made headband though, I honestly forget I am wearing it because it is so comfortable due to the padding the leather provides. The Leather-Wrapped Headband can be thrown on to run errands, dressed casually for a weekend outing, or paired with your date night outfit. However you style it, the Fado Made Leather-Wrapped Headband will elevate your ensemble with a royal crown-like flair from the hand-stitched leather cord embellishment.

Speaking of weekend outings, summer means vacation, day trips, and adventures for many. If you are looking for an exceptional travel companion, the Cross Your Heart Bag is an absolute must-have! The Cross Your Heart Bag is a perfect choice because it considerably enhances your travel experience from its versatility, compact size, durability, and stylish features. The first Cross Your Heart Bag I made was to accompany me on my first trip abroad in 2021 to Cartagena, Colombia. At that time, the Cross Your Heart Bag was a bit different from the current style; it was made with a fixed-length strap to fit my body— however, after gaining interest from others, I decided it would be better to offer an adjustable strap to be worn on any body type with the options to wear it around your waist or your hips in addition to across the chest. Whatever your preference or situation demands, this bag has got you covered. Despite its smaller size, The Cross Your Heart Bag's interior has enough room for optimal organization to keep your items in order and easily accessible. Though it does not come with interior pockets by default, the option to customize the Cross Your Heart with credit card slots or one larger pocket is available. Another important aspect of travel accessories is security, and I believe you will be pleased to know that the Cross Your Heart Bag is made of durable cowhides, reinforced by machine stitching in addition to hand-stitching, a Fado Made signature, and is closed by a heavy-duty brass flip lock.

Another steadfast travel accessory is The Mini Market Bag. This handwoven purse has been a favorite of mine since last November when I made it for the first time in preparation for the Holidays. The first Mini Market Bag was a piece I hoped would sell, but I also knew that if no one claimed it by the start of 2023, I was keeping it for myself. This particular Mini Market Bag is navy, white, and moss green, a bit of a darker colorway for the winter months, but the newest collection I have available now is more geared toward the warmer seasons. These colors include 'dark turquoise,' 'pale pink,' 'dusty blue,' 'avocado green,' and 'lipstick red.' With these leathers, I have woven them together in a lattice pattern in various combinations called 'Bomb Pop' in red, white, and blue, 'Easter Basket' in pink, green, and blue, 'Strawberry Shortcake' in red, blue, and pink, and finally, 'Tropical Pool' in turquoise, white, and green. The Mini Market Bag is perfect for summer days because it can either add a vibrant touch to a minimalistic outfit or, if you are more like me, a maximalist, it can add more color on top of a myriad of colors. Though small, the Mini Market Bag packs a big punch. In my handbag, you will find a Magnetic Snap Pouch, my phone, keys, sunglasses, and travel-size sunscreen with still enough room for more! The Mini Market features brass purse feet to protect its bottom, wears an adjustable crossbody strap, and closes by a leather tab with a magnetic snap. This unique handbag is designed to keep up with anyone on the go!

For leisurely days in the sun, you can turn to the Picnic Clutch. The Fado Made Picnic Clutch is a play-off of the Mini Market Bag but in a smaller/compact form. The Picnic Clutch is a chic and eye-catching small accessory accented with a graphic handwoven front and back, closed by a sturdy plastic YKK zipper. The Picnic Clutch is a versatile addition to your accessories collection that can be taken out to brunch, used to complement your day-date outfit, to hold smaller items within a larger handbag, for toiletries when traveling, or even for an actual picnic. Along the sides, bottom, and inside the Picnic Clutch, you will find vegetable-tanned cowhide that will age gracefully over time. Like your skin, when veg-tanned leather is exposed to sunlight, it will get darker, getting a tan complexion. Currently available in pink/blue/white and white/red/blue, like everything else from Fado Made, you are welcome to customize your colors to fit your personality!

Finally, The Stevie is a style that was inspired by the aesthetic of the 70s, hence its name, Stevie, after the legendary Stevie Nicks. Stevie is a rounded bottom, almost teardrop-shaped tote that is structured from its vegetable-tanned leather lining but is also soft like a "hobo bag." With a sleek and bohemian vibe, The Stevie features a curved, asymmetrical top line that closes securely by its magnetic snap tab. The Stevie stays at your side, safely draped off your shoulder, and fits perfectly under your arm, featuring a partially open top for your convenience. The vibrant Stevie shoulder bag is adorned with brass hardware and matching leather cord, plus a hand-stitched flower accent at the front for a subtle whimsical touch making Stevie a great everyday bag that you can turn to again and again. The Stevie is a fabulous bag that will bring a pop of color and a bit of 70s nostalgia to your ensembles in the summer and beyond!

Fado Made is a one-woman-owned business in Knoxville, TN, run by designer Jamie Chard Kowarick. For more information or to purchase any of the items mentioned in this post, follow the links below or submit a custom order form to put a personal spin on these accessories! Fado Made offers a lifetime guarantee on all items to ensure that you are 100% happy with your purchase.
Leather-Wrapped Headbands
Cross Your Heart Bag
The Mini Market Bag
Magnetic Snap Pouch
Picnic Clutch
The Stevie